Redhead Fever at Maxine
MAXBLOG: Expert Advice Straight From The Salon
Posted on Thursday, January 20, 2011 at 3:12 PM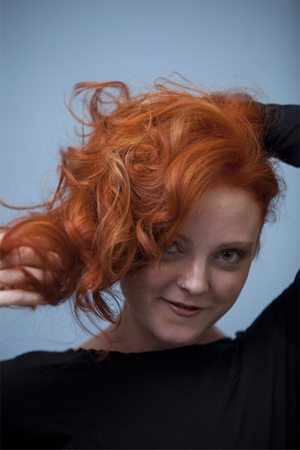 It may still be January, but we're more than ready to start thinking spring. In particular, spring reds. We're all about warm, dazzling shades of fiery copper--they're meant to be noticed.
The art of red, however, can be a challenge. "When you look closely at a section of natural red hair you see it actually is composed of pieces in different colors. You see strands that are naturally hot – almost resembling a piece of bright red or orange yarn – side by side with other tones," explains colorist Jasen James. There are two major challenges that come with red hair:
1. Making red hair look natural.
Most people assume that red hair is made from one color. The truth is, to create dynamic, natural-looking red hair, it's about tonal vibrations. And the best way to do that? Balayage.
"Single-process would just look dull and fake," he adds, and foils can look contrived. "Balayage is the best solution for the shimmery results that mimic nature." Using balayage, we can layer in at least two, often three, different shades. The surface is never solid; the warm tones reflect light and make the hair appear shiny.
2. Keeping red hair from fading.
It's true--red hair fades faster than any other color, which means good maintenance practices are essential. We recommend only using color-safe, sulfate-free shampoos and conditioners. Besides using the right products, it's a good idea to cut back on shampooing, using flat irons, or curling irons too often.
Have you seen our YouTube channel? We've been posting behind-the-scenes videos from the salon featuring your favorite stylists and colorists, and some of our next videos will be focusing on the art of red hair! Check out our channel here, and be sure to subscribe so you'll know when our next videos are up!
« Previous PostAdrianne's Asymmetrical Bob Video Next Post »Easy, Chic Updo Video with Amy
---