Blue Busts the Balayage Myths
MAXBLOG: Expert Advice Straight From The Salon
Posted on Monday, April 9, 2012 at 8:55 AM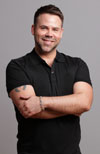 With warm weather and summer approaching, now is as good as time as ever to freshen up dull and dreary grown-out highlights with a fresh and updated look to keep you feeling bright! Maxine colorist, John Blue recommends Balayage, a soft and natural alternative to traditional foil highlights. Blue tackles five common misconceptions about balayage.
MYTH 1:

COLOR CANNOT BE PLACED CLOSE TO THE SCALP

On the contrary, balayage can get just as close, if not closer than highlights done with foils. Because of the placement of specific sectioned pieces, this technique of hair painting allows the colorist to get extremely tight, especially around the hairline.
MYTH 2:

WHY WOULD I PAY TO HAVE ROOTS?

There are many different variations of balayage, and one that has been popular recently is called "Ombré," which means the deep gradient changes from light to dark. Celebrities like Drew Barrymore, Rachel Bilson and Nicki Minaj have been seen rocking both subtle to severe versions of this technique.
MYTH 3:

I DON'T WANT STRIPES OR CHUNKY PIECES

I admit, sitting in the chair watching your colorist paint what appears to be huge pieces into your hair can seem a little unnerving, but keep in mind when hair is gathered together it appears thicker than it is. However, when the color is shampooed out and the hair is dry, it cascades around the head beautifully and naturally, making those "thick painted pieces" look like soft and natural sun drenched highlights.
MYTH 4:

IT LOOKS EASY, CAN'T I JUST DO SOMETHING LIKE THIS AT HOME?

Unfortunately not. The skill and precision to execute this technique takes a great deal of knowledge of understanding of different hair types and growth patterns. It also takes extensive training to develop a steady hand since there is no foil to "guard" or "direct" the colorist on what hair to color next.
MYTH 5:

ISN'T IT MORE EXPENSIVE?

Initially yes. You have to consider the time it takes training and mastering this technique. It requires a keen eye and detailed sense of precision. Remember, you may pay more per service getting a balayage highlight, but because of the natural placement of this technique, it could possibly extend your highlights weeks or even months between your next hair color service, thus saving you more money in the long run.

Now that you're in-the-know, remember to update your look by booking a balayage appointment soon!

« Previous PostSpring Color Trends Next Post »Amy's Spring Fashion Trends
---