Go For the Gold
MAXBLOG: Expert Advice Straight From The Salon
Posted on Tuesday, May 29, 2012 at 9:26 AM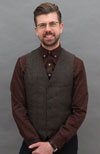 From the resurgence of yellow gold jewelry to the London Summer Olympics, gold is hot for summer 2012. We will soon start seeing Kate Moss's ashy blond and Kelly Osbourne's silver purple tones long gone. Here, Maxine colorist, Josh Shores will tell us exactly how to go for the gold.
The misconceptions:
There is a misconception that gold comes in as red. When done properly, gold can give you a beautiful summer glow and goes great with the hint of sun you've been waiting for all winter.
Shine – that's one thing all blondes are looking for. If you are lifting your hair and over processing it into super pale blond, you are absorbing all the light. Soft golden and amber hues actually reflect light and give off a shiny healthy appearance.
New approach:
Clients should try a new approach to color and get out of the heavily foiled solid look. Hair color has become much softer and European in the last few years. Hollywood is embracing glamorous balayage and ombre looks.
This look will be a bit of transition and training your eye to embrace it may take a few visits to the salon. However, once you do, the beauty, low maintenance and health of your hair will be time erasing.
Getting the look:
Find a stylist well versed in balayage and have the colorist paint soft golden beige and amber tones onto your locks.
One thing that I love to do when converting clients to a balayage look is something I like to call 'the Sarah Jessica.' Keep softer warm golden hews toward the back slightly off the root, then brighten it up around the face.
Start to embrace having a somewhat softer more grown out appearance with hews of shiny gold and you'll be walking around feeling like you've won a gold medal.

« Previous PostKeratin Smoothing Treatment Next Post »Volume Maker
---