Fall Trends 2012
MAXBLOG: Expert Advice Straight From The Salon
Posted on Tuesday, August 14, 2012 at 9:43 AM
MAXINE SALON CREATIVE DIRECTOR
DISHES ON UPCOMING TRENDS
FROM NY FASHION WEEK
Maxine Salon Creative and Educational Stylist Amy Abramite – who has been featured in W, Glamour, CS and Michigan Avenue Magazines (among others!) – gives us her tips straight from New York Fall 2012 Fashion Week where she was backstage at the Jason Wu, Rachel Zoe, Monique Lhuillier, Vantan Tokyo, Jill Stuart and Creatures of the Wind shows.
What are the strongest cuts you see coming out of New York Fashion Week that real woman can wear?
• The majority of the runway models have long hair to make it convenient for stylists to put the hair up into a variety of up cutting-edge styles.
• The hottest cut we saw though is very similar to Kate Middleton's hair which is very wearable for women who like a low maintenance style while still having the variety of wearing their hair down in a blow dry, or up in an up-do.

The ponytail style looks like it got major play on the runway, do you find this to be the strongest trend currently for designers?
• Yes! Ponytails are a dominant trend on the runway. It's the base of a lot of other styles, such as a bun, so it's an important basic technique to master when putting the hair up.
• My favorite hairstyle trend on the runway was the high ponytail we styled for Jason Wu. See photo below for this look.
What was your favorite show to style?
• My favorite show to style was Creatures of the Wind. All of the models had long hair so we created faux bobs by tucking and pinning the hair into a square shape near the chin.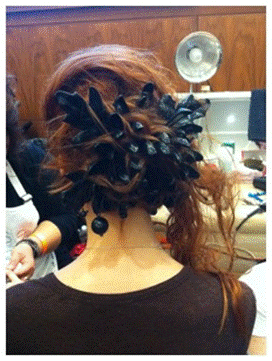 • I love making long hair look short without having to sacrifice any length with scissors. In the nape of the design, we added braids, and wrapped the hair into a flat chignon for a romantic texture. We then placed plastic flowers and leaves into the hair, and finished it with gold glitter spray. It had a light and ethereal feeling and the models looked like lovely mythical creatures.
« Previous PostBLONDE GIRLS WANNA HAVE FUN Next Post »Event Hair
---