Aaron David, Stylist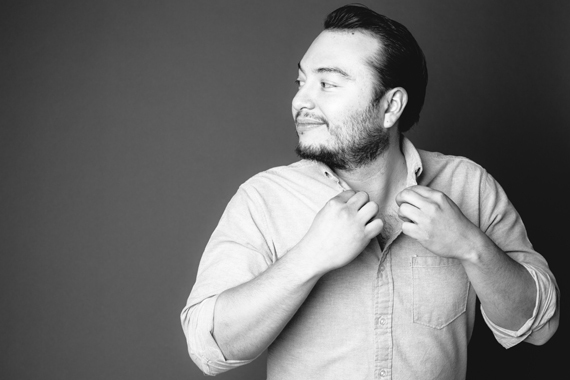 A veteran stylist known for his polished and precise looks, Aaron David joined the Maxine team in 2010 after eight years as an educator and senior stylist. Aaron specializes in precision cutting—both wet and dry. Aaron's passion for his clients is what makes his cuts special. "I don't want my clients to struggle at home and have to spend too much time on their hair; suitability is key."
What is the best thing about working at Maxine? The location and the diverse clientele that come from all over the world.
What is your hair specialty? Precision cutting, also known as the Sassoon method of cutting—from men's barbering to long hair and everything in between.
What movie or TV character is most like you? Larry David
What is your favorite cut to do? For women, anything that's above the shoulders. I love to cut short hair, and be more creative. Favorite cuts for men are classic and clean styles. Men's hair and short hair are my things!
Who is your celebrity crush? Aubrey Plaza
Who is your dream client? Brad Pitt, because I'm sure my career would blow up after that with male clients knocking down my door.
Favorite restaurant? My cousin's spot, Antique Taco, in Wicker Park.
What is the best decade for hair? The best decade is now, because anything goes.
Aaron can show you some tricks of the trade which will help you style with ease with minimal product. Ask for Aaron's hands-on blow dry class ($75.00).
Aaron's haircuts are $100.00
5.0 Stars
I've been going to Maxine's for years. I've seen a lot of the stylist but usually stick with Hans or Aron. My hair is really thick and hard to cut. This is the 1st salon I have been to that didn't automatically try to texturize or thin my hair. I also do color with Sarah. Thanks Maxine's for a stress free experience. P.S. They have wine and beer if you ant so inclined. Nice!!

Posted on 03/21/2015 by C.M.
5.0 Stars
I have been going to Aaron for about a year now and I am always happy with the haircuts he gives me. I have short hair and I'm middle aged. There is a fine line between a cute, fun and fresh haircut and a very o.k. haircut. I always leave the salon feeling good about my haircut and I get lots of compliments on my hair. I live in a suburb of Chicago and Maxine isn't very close to me, but now I wouldn't think of going anywhere else. I appreciate that Aaron really takes his time cutting my hair--first wet and then dry--and makes sure I'm happy with it before I leave the salon. The salon itself is clean and bright and the staff is very pleasant. Some of the shampoo people are better than some of the others, but the cut is what is most important to me. I would suggest that when you go Aaron, you follow his suggestions and advice--he sometimes takes me a little "outside of my box," but always in a good way. But if you're like my sister, who tells Aaron exactly how she wants her hair, he'll do that too and she's also always happy with his haircuts.

Posted on 01/27/2013 by Arden B.
5.0 Stars
I want to begin by saying I have been to just about every salon on the north shore. I live in downtown Evanston, and have hit all the places north to Highland Park down to Michigan Ave, but Aaron (David) is by far the best there is! I got lucky with really great hair. It does exactly what you want it to do. However, I have A LOT of hair and it grows really fast. It also gets very heavy and bulky. Not only does Aaron understand my hair and how it grows . . . it's the cut that stops people on the street asking me where I get my hair cut. Aaron takes his time and is meticulous in every way. More importantly he knows hair - what will work and what won't. The best thing about my hair is that I don't have to fight with it after 10 days of leaving the salon. It grows out perfectly so that my hair always looks great whether it's its 2 weeks into the cut or 7 weeks later .. . . he hits it right every time! Make an appointment with Aaron, and I promise, you will love your hair everyday! I can't think of going anywhere else.

Posted on 01/22/2013 by Jan K.
5.0 Stars
I finally found a salon I can be loyal to after years of salon hopping in Chicago. I've been going to Maxine Salon for about a year and a half and love Aaron's haircuts. I would say I have a lot of hair, but it's fine, so the wrong hair cut can leave my long hair looking dull and flat. Aaron does a really nice job with my long layers. My hair always looks playful and thick. And it grows out really nicely, so I can wait a little longer before getting my next hair cut...saving me some $$$ which is always nice.

Posted on 01/17/2013 by Erin N.
---