Anna Jackson, Stylist and Extension Specialist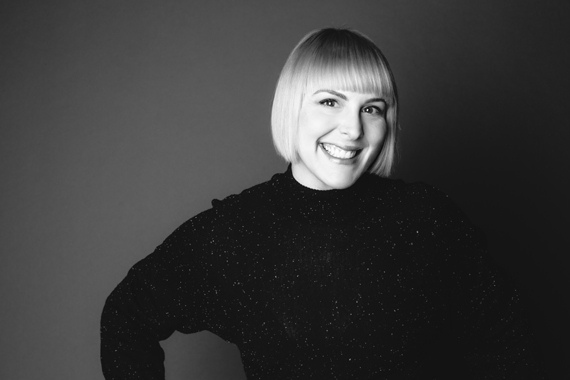 A veteran of editorial work, Anna has been styling, scissoring and shaping Chicago's elite for the past 10 years. In addition to cuts, Anna has mastered the art of hair extensions. Anna also specializes in bouncy blowouts, bridal updos and makeup. She is a certified "Great Lengths" hair extension specialist, and her work has been seen on WGN, NBC and Oprah. She has styled hair for Spin, Elle, Michigan Avenue and the cover of URB.
Tell us about extensions. They are so hot right now. Actually, I have been doing them since I started doing hair, and I am very knowledgeable about the different types of hair that is out there and available. I specialize in working with women whose hair is thinning or changing. I'm like a hair doctor, I talk to my clients about hair health and the science behind hair products and why things may or may not be working for them. I'm a hair nerd. And I love the science behind everything.
What is the best thing about working at Maxine? The level of professionalism and the fun staff. Everyone is really great at what they do.
Any favorite cuts? I don't have a favorite cut to do, but I do love cutting men's hair. I am trained in the American Crew barbering techniques, and I love barbering. I also love doing beautiful Classic women's hairstyles. And I absolutely love being able to transform a woman's hair with hair extensions. Being able to give someone a thicker fuller head of hair that they naturally can't grow is one of the most satisfying feelings ever.
What has been your career high? My career high was touring with a musician in Japan, doing hair and makeup.
Who is your style icon? Why? My style icon is Blondie. She embodies cool. She is super girlie and sexy but can hold it down with the guys.
What has been the best decade for hair? The Victorian era. There were a lot of braids and whimsical fuzzy texture and lots of up styles. I also love the 60's for Vidal Sasson and his Bauhaus-inspired, geometric haircuts.
What product can't you live without? Dry shampoo. Period. Hairspray is also really important. And the Kerastase product, Ciment Thermique, is something I won't go without.
What is your daily hair routine? I shampoo my hair every two days. On the days I don't wash, I spritz my hair with water to reinvigorate the products and re-blow dry with a paddle brush. And I never air dry unless I'm forced to.
Anna's haircuts are $105.00
| | |
| --- | --- |
| | Hair Extension specialist Anna Jackson demonstrates how she applies hair extensions. |
5.0 Stars
The SMARTEST hair stylists and colorists in Chicago, period. My color from Lauren and cut from Anna were both PHENOMENAL. Ramona cut my fiancés hair and he thought the extra cost was so worth it - these people are hair geniuses and it's just an amazing place. Go here, you won't be disappointed.

Posted on 06/15/2017 by Jessica G.
5.0 Stars
Decided I needed a haircut upon landing from NYC. Hotel recommended Maxine's and Anna had an opening right away. She was super knowledgeable, personable and had a way about her that I trusted her the minute I sat in her chair. I walked away smiling with a bounce in my step. A visit to Anna will be on the agenda next time I am Chicago

Posted on 10/04/2014 by Kelly M.
5.0 Stars
I recently had a colorist ruin my hair doing highlights to the point that there were bangs in the back of my head on shoulder length hair. I was devastated and wasted a lot of time crying and considering what limited legal action I had. I went to Anna Jackson who previously had done my hair extensions years ago and she was fabulous, but because I moved out of the area I foolishly stopped going to her. Now I didn't think anyone could save me from my hair disaster. I have a round face and was so nervous about going pixie short but knew that was the best option to get my hair all the same length and to work on the overall condition. I cannot express enough how fabulous Anna is. She gave me volume where there wasn't ever in my life and created an effortless style, texture, and look that I never ever thought would be possible. She is literally a magician! I have never received more compliments, even from people I don't know and I owe it all to her!

Posted on 04/27/2013 by Kate F.
5.0 Stars
I have followed Blue and Anna from other salons to Maxine's over the last two years. A platinum blonde for over 15 years, I have had my color done by a lot of colorists. But Blue is a magician. Anna Jackson is also a genius with bleached hair, which really requires a special touch. I used to get my color done by Blue and then run, with wet hair, 10 blocks to see Anna at another salon. Now, I am so lucky because they are in the same place. I get so many compliments on my hair color and on my cut. They are a great team! And, Maxine's is so wonderful because there are also so many talented stylists if I can't see my regulars. Cheryl is fantastic, too. And everyone who works at Maxine's is so lovely. I really love the front desk people and all the assistants. I wasn't surprised that Blue won the best colorist award from Chicago magazine!

Posted on 9/15/2012 by Kristen
---