John Blue, Colorist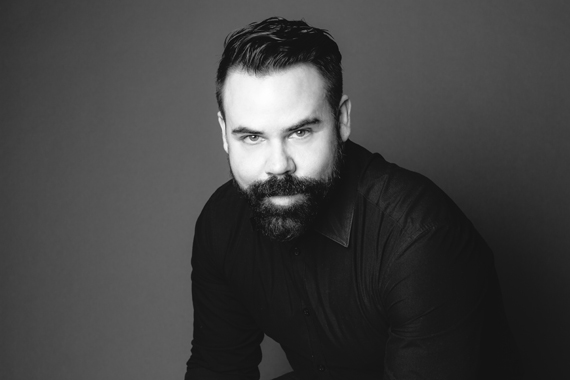 As one of the most sought-after color specialists in the city, and voted "Best Colorist" by Chicago magazine, John Blue has been painting the town since 1999. His approach to color is simple; enhance what you were born with, factoring in your skin, eye color and natural texture and tonality. Blue says, "So many people go against the grain of what they naturally have, and it can sometimes work to their disadvantage. Why wouldn't you want something that's softer, less contrived and more believable with less maintenance?" Having started his career in Minneapolis, followed up with a two-year stint at Van Michael Salons in Atlanta, John Blue advanced his career further in 2004 as a Global Hair Color Educator for Aveda. Shifting gears years later, he focused his hair coloring passion to a new level by becoming a Certified Balayage Expert by attending the L'Oreal SoHo Academy in NYC. Outside the salon, Blue and his work have been featured on TLC's "A Makeover Story," WGN news, and in a variety of publications, including Elle, URB and Modern Salon.
What is the best thing about working at Maxine? The freedom of creativity and working alongside some of the best talent in Chicago.
What continuing education have you participated in? I've been to many advanced courses in New York, Chicago, Miami and most recently, Barcelona.
What is your hair specialty? My specialty is balayage, especially when it comes to brunettes. I've been told I've mastered the art of highlighting a brunette and keeping it natural looking and non-stripy. I also get excited over hair color corrections. Though time consuming, it's really rewarding to take someone from a place of despair to a place of excitement!
What has been your career high? Being recognized as "Best Colorist" by Chicago magazine, which happened on my ten year anniversary of living in Chicago.
What neighborhood do you live in? I live in Andersonville and absolutely love it! It was also recently ranked as the 7th best neighborhood in the country, according to the real estate company, Redfin. It's such a diverse place with tons of shops, bars and awesome restaurants.
What do you do in your free time? I record music, have albums on ITunes, and hang out with my two Shih-Tzus, Chico and Gizzy. I also recently started my own Premium Soy Candle line called "Poplux by John Blue!" Be sure to check it out, because the fragrances are uniquely one of a kind!
| | |
| --- | --- |
| | Colorist John Blue demonstrates Sombré Hair Coloring. |
5.0 Stars
I am still going to Bob and I am still loving him, and now that I can afford to get my hair colored I can go back to John Blue! Blue has been doing my balyage for ten years. We are both old. But we are still as cool as ever and I wouldn't have anyone else touch my hair. He has always had the best eye for color and best hands to apply it.

Posted on 08/31/2016 by Samantha s.
5.0 Stars
I have had my hair colored by John Blue twice and am thrilled with his work. My hair is naturally ashy and dishwater and I either end up being over highlighted so I have no dimension, or I end up with a dark color that makes me look tired and pale. I have always wanted a more sun-kissed natural look and am happy to say Blue is the ONLY person who has achieved this. I live in Minneapolis and will try to make trips to continue to see him (I don't have endless funds to do so but will save just to do it!; he is that good. He is friendly, listens, knowledgeable and just a great guy in general. Also, the way he colors helps the color last and look natural for MONTHS so I'm not visiting every 8 weeks like I used to. The salon itself is gorgeous and the staff is SO NICE which is a welcome change from many salons. I highly, highly recommend;)

Posted on 10/26/2015 by Kim S.
5.0 Stars
It's taken me entirely too long to post my rave review for John Blue, colorist at Maxine's. I've been going to the salon for years but wasn't thrilled with my previous colorist - a friend suggested John for his technique and demeanor. His nature is warm, and he immediately made me feel comfortable and like I mattered as a client (unlike my previous experience). Wonderful manners and personality aside, the man knows what he is doing with color! He favors natural blending, is a pro at balayage and isn't afraid to execute his vision. He's a true talent with a natural eye and instinct for what works, and I would recommend him to anyone!

Posted on 02/08/2015 by allison h.
5.0 Stars
I first sat in Blue's chair about 3 years ago. About one week prior, I hit up a well-known Chicago salon asking for a "Megan Fox", but instead walking out with a shade of brunette more along the lines of Mickey Mouse in Steamboat Willie. Basically, I sat down and said "fix it". Welp, when all was said and done, that was the first time in memory that people, even randoms on the street, complimented my hair. I haven't gone to another colorist since meeting Blue. He'll stick to what I ask for, but if he thinks something might not work (with my hair texture, skin tone, etc.), he will be honest and make a suggestion (that always ends up looking better than what I wanted anyway). I'm pretty sure I would fly to China to get my hair colored, if he moved out that way.

Posted on 02/27/2014 by Hannah F.
5.0 Stars
It's often hard to find a colorist in the city who doesn't turn your hair orange when blending or coloring your grey. I'm a fairly conservative guy in his 30's who has a little "aging grey" and sometimes I get the urge to blend it so its not as noticeable. I've been to a few upscale salons in Chicago, but people always leave my hair looking dark as if I rubbed coffee grounds or shoe polish into it, or with all of these orange and red tones. Yeah, not quite the look I'm going for. I read about John Blue and I had to check him out. Low and behold, I got exactly what I asked for. He's a great colorist who thoroughly listens, offers suggestions and actually gives you what you ask for. The best part is, it fades out naturally that I can go three to four months in between, and nobody can tell that I've even colored my hair.

Posted on 11/13/2012 by Nic L.
---