Rex Jimieson, Colorist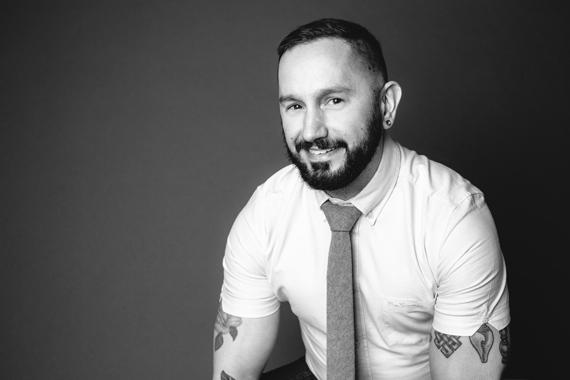 Rex has been coloring hair since 1993. He is an expert in all techniques including balayage, foil highlighting, corrective color, single and double process. Rex has traveled nationally and internationally to acquire his education from the best sources including Vidal Sassoon, L'Oreal Professionnel, and Toni & Guy. He is a former member of the L'Oreal Professionnel Technical Team, and has spent most of his career as an in salon educator. Rex approaches each client with compassion and a creative eye.
What does your job entail? I'm a hair color specialist and the lead educator for the color assistants at Maxine.
Where did you start your career? Late night hair color parties in my mom's kitchen as a teenager.
What is your hair specialty? I like to call it color truth. Be it bold or natural, I want people to believe the color my clients wear.
What has been your career high? Making it into the Allure Magazine Directory Sept 2014 issue.
Who is your dream client? Why? Debbie Harry, I love to do blond, she's classic and an original.
What do you do in your free time? Yoga, cooking, visiting cultural events and exhibits. I'm also very interested in photography.
Who is your style icon? Why? David Bowie. He represents change and going against tradition.
What movie character is most like you? Veronica Sawyer from "Heathers."
If there were a movie about your life, what would it be called? No Day But Today.
5.0 Stars
I have been going to Maxine for about two years now and must say that Rex Jimieson at Maxine Salon in Chicago has got to be THE best colorist for blondes in Chicago, and certainly the best colorist I've ever been to in any of the major cities I've lived in. He gives a thorough consultation, takes a real detailed and somewhat scientific interest in your hair, and I have never seen a stylist pay such close attention to the timing of the color! He stays right on top of the process, no distractions, no wondering where Rex went! I had been trying to get rid of (or avoid) a golden-toned, or copper brassy blonde, and no "blonde specialist" stylists at even the best salons could ever seem to get me where I wanted, until I started working with Rex. It wasn't instantaneous, but with patience and precision, he's gotten me to the cool blonde I've always been seeking. I live overseas and sometimes my stylist there takes me back a step, but he doesn't scold or shame when I return to be fixed. We just go back to getting to a pretty pale blonde. Thanks!

Posted on 06/14/2016 by Becca K.
5.0 Stars
When I came to Maxine, my hair was fried from an at-home straight perm that I bought online (big mistake don't do it - ever). It was so damaged that I couldn't even run my fingers through my hair because it was fried and constantly tangling. I did my research on many Chicago Salons and decided to go with Maxine. They specialize in making your hair healthy and shiny - two things I desperately needed. I heard Rex was talented at coloring severely damaged hair so I made an appointment with him. He listened, gave his recommendations and then I also consulted with Shelly, my new stylist. We all discussed the different steps I could take to get my hair back to a healthy place again. They gave me several options and I felt confident about the course I needed to take based on their consultation. I went with a Keratin treatment, a cut and a color with a permanent, gentle color product. I cannot say enough about the salon. Rex and Shelly are phenomenal. True professionals. This isn't a hobby or a just a job for them. This is their passion and their career. They take what they do very seriously - in a good way. They want you to have the healthiest hair possible combined with the look you love. Is Maxine expensive? Yes and no. I learned a hard lesson after using that straight perm - you get what you pay for. At Maxine, you get what you pay for - a look you love, healthy hair, and a staff who cares deeply about your experience. Worth every penny.

Posted on 11/16/2015 by Happy Y.
5.0 Stars
I had a terrific experience at Maxine's last week that I want to share. I live in Florida in a smaller town without a lot of experienced colorists for my blonde highlights. I have chin length fine hair, and alot of it. I was going to Chicago on a business trip and researched the internet for a sophisticated salon. I found Maxine Salon thru online recommendations. I booked two appointments to coincide with my business trip. Rex gave me terrific pastel blond foil highlights and Adrienne did a very nice medium length, layered bob cut. Both of them were very professional and supportive of my "hair" needs, even though I was obviously an out of towner. The front desk staff was also super very courteous when I came in straight from the airport with my bulky suitcases! I recommend this salon highly. I took a chance based on internet research and it worked out well. I'm writing this review to encourage others take the same leap of faith I did. Fortunately its not a long plane ride to Chicago, so I'll be back!

Posted on 03/30/2015 by Susan B.
5.0 Stars
I have been coming here for over seven years and the the colorists and stylists are part of my "money team"! You know your coveted group of people who take care of you . Rex and Evan are my go to team! But anyone I have worked with is great. Love the front desk staff too! Now if I could only find a great facialist for my money team I'd have the holy grail.

Posted on 01/21/2015 by Mike C.
5.0 Stars
Love love love my new salon! I have gone 2 times for balayage with Rex and 1 time for cut with Sanda. Basically I have a very mild ombre with face framing for sun kissed look. I'm naturally a dirty blonde and have transitioned from getting highlights to be more low maintenance and to get that natural look while growing out (say good bye to root line :) The blonde he pulls thru my hair for the "sun kiss" is such a pure beautiful blonde (if your blonde you know what I mean) I'm impressed. And he really listens to what you want. I hate getting my haircut because I like to keep it long but my ends really needed it. I asked for her to keep it long but some how give it style and give me some side bangs. Was nervous about he bangs because I really just wanted a sweep across and not a chunk. She nailed it! a little expensive but since you actually have to go less often since they do such a nice job and you don't have to get corrections. I feel its not that bad.

Posted on 08/26/2014 by Hannah K.
4.0 Stars
I have been going to Rex for awhile now for my color. He does my base and balyage (sp) and does a great job. The salon is fine, a little stuffy, but overall they do a great job there. I just think the salon has been around so long in the Goldcoast and has catered to the "affluent" older generation that they probably haven't focused on the younger professionals. All in all, they do a great job.

Posted on 02/08/2014 by Faye G.
---