Rivkah Lyles, Stylist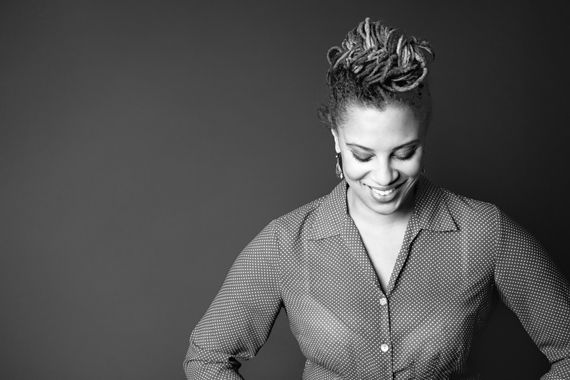 Clients love Rivkah's creative, short haircuts and the sexy, feminine lines that come with them. "I disagree with the old standard that long hair is naturally more sexy," she says. "Short hair can make you feel like a new person, and really, once you go short, you may never go back." A stylist for nearly 10 years, Rivkah is known for her in-depth, thoughtful consultations. Besides Maxine's extensive training program, she has sharpened her skills through L'Oreal Professionnel and Shu Uemura Atelier courses.
What is the one special thing that everyone should know about Maxine Salon? We've been a team for a long time and that continuity can be counted on.
What is your hair specialty? Short, edgy haircuts.
Who is your dream client? Why? A confident woman who considers her hair to be a creative accessory and is open to change.
What has been your career high? Getting a card in the mail from an out-of-town client who wanted to let me know I'd given her the best haircut she'd had in 64 years. The moments when you can make someone feel awesome about themselves makes me the happiest.
Favorite restaurant? Happy hour spot? Blues on Halsted is a favorite hang.
What movie character is most like you? Auntie Mame! She's independent, a great admirer of creativity and an all around Bon Vivant.
What is your biggest secret? I'm a huge classic film buff.
What was the best decade for hair and why? The gorgeous curls of Rita Hayworth in Gilda were a great representation of the late 1930's.
Rivkah's haircuts are $80.00
Follow Rivkah on

5.0 Stars
Rivkah has cut and styled my hair 3 times when we make our annual visit to Chicago. I love the styIe and cut. When I returned to hotel room my husband said "WOW". He took several pictures and we hope my stylist where we live in Florida can match it. I just got home from trip and have received lots of compliments from friends and family. The other positive is that my style is easy for me to take care of. Rivkah is excellent with listening to what you want done with your hair and giving expert advise. Her expertise shines in the finished product. She is also pleasant and enjoyable to talk to. The service at the salon was excellent-I called several weeks before I went to Chicago and receptionist was friendly and efficient. I was greeted warmly upon arrival, and was checked out in same manner. I look forward to my next visit to Chicago, and especially having my hair cut by Rivkah.

Posted on 06/17/2014 by Claudia P.
5.0 Stars
I've been going to Maxine for all of my hair needs for about four years. Super white and pristine interior, a swanky robe, yadiyadiya, I don't care, I just want nice hair. I'm extremely picky about my coarse, wavy, super thick hair, and Amy nails it every time. Her cuts are precise and even though I'm not a stylist, I can tell that she utilizes techniques that are out of the ordinary. As someone who has pretty much always had very long hair, I used to always walk out of salons with my hair in the same long layers. Not the case anymore. I tell Amy that I want something slightly different every time I see her, and she always delivers. More volume on the sides but not in the back, blend my grown-out bangs, blunt ends within my layers. Oh, and she never accidentally cuts off 5 inches when I said I wanted a trim. I also love to pick her brain about hair stuff-- I now have a home arsenal of products and tools that work really well on my hair. She's also done, hands down, the best thermal reconditioning (Japanese straightening treatment) that I have ever had. And I've been doing it since I was 12. She left my hair super silky and straight without any sign of damage. I'd get this done by her every 6 months if I could afford it. I've had my hair cut by a few other people at Maxine besides Amy, either before I tried her or when she is out of town. I feel like the general level of talent is definitely above other places in the city, but Amy still takes the cake. Rivkah gives super bouncy, Victoria's Secret-y blowouts.

Posted on 08/29/2013 by Marisa A.
4.0 Stars
As soon as I posted this review, I was contacted by the manager of Maxine, Tracey, who seemed very concerned about my happiness with my hair cut/do. She scheduled me with Rivkah right away and made sure I was taken care of. I got to Maxine and Rivkah came and got me promptly. I liked her a lot and she really listened to what I had to say about ma hurr. She was so sweet and really seemed interested in what look I wanted to achieve. After the cut and blow dry, my hair looked great! She did a fabulous job and was super easy to talk to. I will definitely be going back to her. I can't wait! Thanks Rivkah and Tracey for hooking me up with an awesome cut!

Posted on 8/23/2013 by Hayley N.
---