Maxine Kroll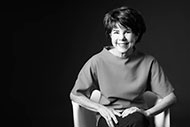 Maxine has owned and operated Maxine, a popular Magnificent Mile salon, since 1986. Maxine began her career as a stylist at Vidal Sassoon, where she developed management teams in Chicago, New York and L.A. In 1986, she opened her own salon on Walton Street with a staff of five stylists and colorists. Business grew steadily as loyal clients spread the word to friends and associates about the salon's excellent cutting and coloring services. In 1997, Maxine bought a brownstone at the present Rush Street location. Salon renovation continues to this day to enhance, excite and exude all that is current in the world of hair fashion.
What does your job entail? Everything. I believe that as your career grows you should always add hats, but never take any off. After all, why would you want to lose anything that helped propel you to today?
What is one special thing that everyone should know about Maxine Salon? The experience of the client matters as much to us as our standard of work. Clients rule!
What continuing education do you facilitate? We hire educators at top levels in our industry four times per year to come to the salon to bolster our creativity and trend experience. We also sponsor various team members to attend educational experiences in New York, Los Angeles, London and Paris.
What has been your career high? Today, but I am still climbing and always will be. I guess you could say the journey is the high for me.
What do you never leave home without? My mind, I hope. And of course, red lipstick.
If there were a movie about your life, what would it be called? Hairspray. All it took was one can and I was addicted.
What is the best decade for hair and why? Now. Everything goes and it is so very much fun. Hair dressing is as important as hair cutting. Color is a necessary accessory for all and blue hair is no longer your grandmother's overdose of rinse. If there are any rules that are made they are broken brilliantly.
---