Lauren Van Beek, Colorist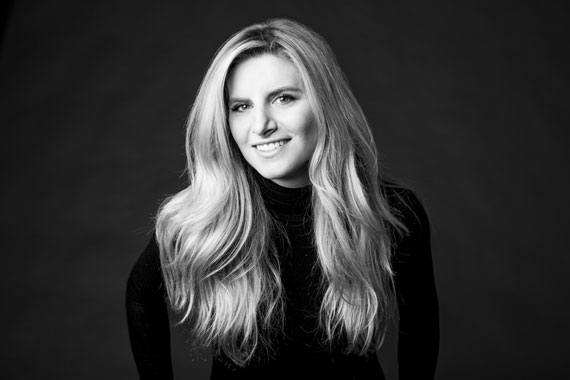 Colorist Lauren Van Beek is a balayage specialist. The Michigan native has been schooled in the art of color at Maxine Salon and also completed courses in New York City's L'Oreal Academy in Soho. Lauren's goal is to create naturally beautiful looks for clients and to educate them on how to care for their hair after they step out of the salon.
Favorite thing to do on a free Sunday? Brunch, and shopping.
I like to start my Sundays off with a mimosa and catching up with friends. After words I make my pilgrimage to the Nordstrom shoe department. I am a sucker for heels.
Who is your style icon? Why? Grace Kelly, because her style and elegance are timeless. She was able to carry off glamorous looks with a certain amount of effortlessness. Despite her later title as the Princess of Monaco she was able to maintain a certain down to earth appeal
If there were a movie about your life, what would it be called? I'll take cheese with that.
What was the best decade for hair and why? The 60s, because the styles were extremely refined. Hair was becoming an integral part of the fashion world, case in point: Sassoon's 5 point cut on Grace Coddington in 1965 and in Breakfast at Tiffany's in 1961, Audrey Hepburn sported some of the first man made highlights. Hair dressing was evolving with technology of the modern world.
What was the worst decade for hair and why? The 80s, because the styles were damaging to the hair. Foil highlighting was bursting forth and performed improperly as many techniques are in their infancy. Perms were also a staple look of the 80's. The unavailability of professional quality take home products combined with the techniques previously mentioned left the hair in a lackluster state.
What is the hair care product you cannot live without? Kérastase Elixir Ultime. It leaves the hair feeling silky and moisturized without weighing it down. It can also be used throughout the day to control static and flyaways.
Follow Lauren on

5.0 Stars
WOW!!! I mean...wow. Lauren and Raven made my hair look the best it's ever looked. My mom and I were in for the weekend out of town and decided to get our hair done. I knew I wanted to try something new with my hair, and both of the stylists were so accommodating and a joy to be around. Everyone at the salon is lovely and they made me feel so pampered and beautiful. If you ever need a blowout or a cut and color while your in the city, CHECK THIS PLACE OUT! IT'S WORTH IT!

Posted on 03/17/2019 by Karissa B.
5.0 Stars
What an amazing salon! Came here today desperately needing a change after having a baby two months ago. From the front desk to the assistants to both of the stylists that I saw, Maxine Really knows how to wow their clientele Lauren was my colorist and she was absolutely amazing. She took her time and really perfected my color. Coming in, my hair was damaged and brassy but leaving Lauren's chair my hair felt brightened and healthy with the exact color and tone I requested. He cut my hair and I absolutely love It! One of the best cuts I have ever received Both stylists took their time and really perfected everything. I will definitely be returning!

Posted on 11/11/2017 by Katie H.
---