Tina Deeke, Colorist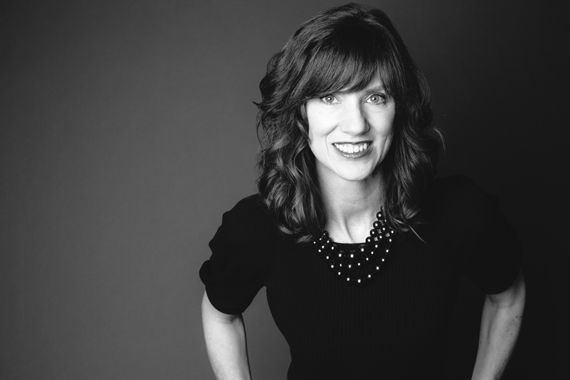 After 12 years as a stylist, Tina switched to the color side. Today, Tina is a senior colorist with 18 years of experience at Maxine. She is a virtuoso of both natural and creative color. Tina helped initiate balayage into our salon.
What does your job entail? Analyzing each client's needs, wants and desires. I help clients achieve what they are looking for.
What is the best thing about working at Maxine? I have always loved our team. We have a great education and our clients are superb.
What is your hair specialty? I like keeping hair soft and natural, however I enjoy all aspects of color. I never want my clients to be a slave to their color.
What has been your career high? I was featured in Allure Magazine and Michigan Avenue Magazine as a top colorist.
What do you do in your free time? I am involved in animal rescue/advocacy. I volunteer for Safe Humane Chicago and Chicago Canine Rescue.
What do you never leave home without? My cell phone, my lipstick and mascara.
What is your daily hair routine? It depends on my mood. I like to switch between my natural wave or smoothing out the wave. I'm sort of a product junkie.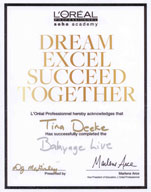 Follow Tina on

5.0 Stars
After appointments with Tina and Amy, I always feel like a new person! Since moving out of the Chicago area, I appreciate them even more as they now have to fix someone else's attempts to maintain my color and give me an up-to-date cut. Tina is an extremely talented colorist and she knows just how to give me a natural look with a bit of a boost. She listens to my concerns and then tells me what she'd like to do to make sure we're on the same page, but truthfully, she's so good there's no need to ever change what she recommends. Amy is a mind reader - I just vaguely tell her what I want to change about whatever cut I got from someone else and she gives me a new style that works for my face and my hair - then she gives me lessons on how to create the look myself. The staff is great and they all work together to accommodate my limited availability whenever I get back to Chicago. I've been to salons from Beverly Hills to New York and DC - Tina and Amy are my favorites!

Posted on 11/5/2018 by Ali K.
5.0 Stars
I am EXCEEDINGLY glad to have found Maxine!! This place is a gem! It's very nice, without being pretentious. Everyone who works there is SO friendly and accommodating! And you can book your appointments online!! I have naturally curly hair and I have a lot of it. I'm scarred by two things in my hair-past: 1) I had a terrrrrrible haircut 20 years ago that made me look like Garth from Wayne's World 2) I went to a stylist for a few years, who told me, and I quote, "I hate having to spend so much time on your hair...you have so much of it & I just get sick of looking at it. But since you're nice, always early, and a good tipper, I keep letting you come back..." After those 2 experiences, I became petrified about anyone touching my hair. I like to find people I trust and become their devoted, monogamous, every-5-week-like-clockwork-client. I was devastated when my last amazing stylistof 8 years decided to get married and have twins (super happy for her, but insert boo hooing for me here). Thanks to the wonders of the internet, I did TONS of research for months (at the expense of my poor hair) and found my new salon home and stylist/miracle workers: Tina: Believe the hype! She is warm, charming, engaging, and so easy to talk to. She asked me a lot of questions on my first visit to ensure that we were on the same page about what I wanted & the ability to achieve it with my hair - and she really listened & put me at ease. She touches up all my gray roots with a lovely shade of blonde & gives my hair so much dimension. She gave me the most beautiful blonde balayage and I get so many compliments on it. She lives up to every bit of her amazing reputation. Josie: She is just amazing! Worth every single penny. She looked at my hair, listened to what I wanted, and went to work. She cuts my hair beautifully! I was amazed how well she understood my hair & knew EXACTLY how to cut it, within 2 minutes of sitting in her chair. Her reputation as the curl whisperer is NO JOKE! A note to all you long haired people, scared of getting "chopped": You WANT to see Josie - she is NOT scissor happy and loves long hair. She doesn't care when I say "just a trim" - she likes that I like my length and just trims off enough to keep it healthy. Tina and Josie are simply the best! They have earned a VERY loyal client in me!!! I highly recommend both of them (particularly if you have long, curly hair). You won't regret it!!

Posted on 11/19/2014 by Jessica T.
5.0 Stars
I have been going to Maxine for about four years now. Tina does the best color (highlights) for my hair I've ever had. She totally listens to what I want and also gives suggestions. Josie does a wonderful job with the haircut. I have very curly thick hair, and they both really know how to deal with curly hair. Josie's cut leaves my hair in just the right layers so it doesn't look disheveled even after a couple of months, which could easily happen! It's a modern space, and just sort of subtle music in the background which I appreciate. No loud, annoying music. Also there is a choice of beers, champagne, or prosecco for sale which is a nice touch.

Posted on 7/16/2014 by helene f.
5.0 Stars
I had balayage with Tina for the first time this week and I LOVE it! My hair is just that gorgeous sun-kissed natural with dimension caramel blonde I have dreamt of. Lots of shine and good condition. The effect beats foils a thousand-fold. It costs a little more but it is totally worth it. Balayage is an art. The colorist paints each high and low-light by hand, selecting the strands and spots where the light naturally catches, giving the illusion of movement and fullness. And Tina has a fantastic eye for skin tone and hair texture. It goes perfectly with the personalized version of the Karlie chop that Becca has given me. This is the ultimate high-to-low maintenance cut. I can do as little as shape the bangs and let the rest air dry and get a fresh, young contemporary look that works with my natural wave. Or I can blow out with round brush for the full, sleek sophisticated bob. It's the best haircut I have ever had. And I have been going to Maxine for eight years now. I didn't think they could still outdo themselves.

Posted on 08/15/2013 by Nina G.
---