Marshall Violante, Colorist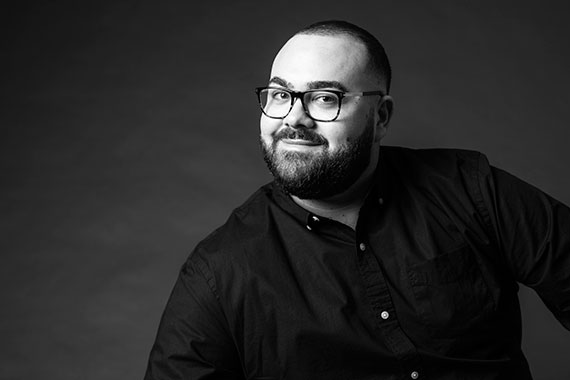 Known for natural, sun kissed blonding, Marshall has been an expert in color since 2009. After completing the color program at Sassoon, he spent years coloring clients with anything from creative color techniques to classic looks and everything in between. Eventually he was able to further enhance his repertoire by training the color apprentices and teaching students at the academy. "I believe that this hands-on opportunity to educate others in the art of hair color has honed me into an even better colorist behind the chair today," said Marshall. If you're looking for hair color with natural hues and beautiful undertones that compliment your complexion, Marshall is the colorist for you! Throughout his career, he has always looked to Maxine Salon as a leader in the industry, and is happy to be working alongside the best in Chicago.
Who is your dream client? Any of Bravo's Real Housewives.
What is your favorite hair product for colored hair? Shu Uemura Color Lustre Brilliant Glaze Thermo-Milk.
Favorite restaurant in Chicago? Kai Zan for sushi and Bavettes for steak.
What movie character is most like you? Balou from The Jungle Book.
What new color trends are you seeing? Instead of a traditional, bright blonde tone, I've been seeing champagne or beige colored highlights. And who doesn't love champagne?
What was the best decade for hair and why? 1970's hippie style hair is my favorite. This decade is when color really started to get added to the mix. The overall vibe was bohemian with loose waves and natural textures.
Who are your style icons? Tom Ford, Karl Lagerfeld, Alessandro Michele.
What neighborhood do you live in? West Loop
Where might someone find you on a Saturday? Hanging out at Soho House, especially on a summer day. I love spending time in my neighborhood, the West Loop, supporting local shops and restaurants.
5.0 Stars
Marshall has been coloring my hair for a couple of years now. I get all-over color with a gloss. He does a great job and is very pleasant. I cheated on him a couple of times to save money, but I regretted it both times. He was very sweet about it when I came back. I'm very picky about my hair and usually go to the most expensive salon in town just to be safe, and Marshall doesn't disappoint.

Posted on 12/10/2019 by Sue W.
5.0 Stars
I've been coming here for years and Marshall Violante is the best and is VERY consistent with the quality in service and hair color. I'm very particular and have followed Marshall from Vidal Sasson to Maxine because this girl doesn't like change! So in total , I would say I've been with Marshall 5 years and I don't plan on changing anytime soon. Keep up the great work!

Posted on 02/28/2019 by Shirley A.
5.0 Stars
Marshall! I have shouted Marshall's name into open car windows. I have whispered his name in line at the grocery store. I have scribbled his name on gum wrappers to pass to strangers on the street. People ask me who colors my hair all the time - all throughout the way-too-many weeks (cough, months) I let slide by between appointments. And I tell them: Marshall, Marshall, Marshall! Marshall mixes a luminous red that stays vibrant much longer than any red ever should. In spite of the deep, strong color, my hair stays healthy. We've done reds from copper to cherry to burgundy and I've loved them all. He is also just an absolutely lovely person to talk to: funny, centered, and thoughtful. Maxine is a great salon -- I love the option to book online, the space is bright and open, and the location is convenient.

Posted on 01/30/2018 by Virginia K.
5.0 Stars
Patient,perfecting, and professional. Marshal(colorist) & Cheryl(stylist) collaborated with me on what woukd be best for my African American, long hair. My hair was 7"of natural hair, 6" of perm- which was transitioning out of braids and in need of grey coverage. All i can say is transformative. I have never been this emotional in a good way about my hair. Marshal mixed the magic and taught at the same time. The color looked so good i forgot that i needed to be styled. But then Cheryl took it to the next level and chose all the right product, tools and cut. The cut was so good i didn't need it curled,and the lenght was still there. She briefed me on care and answered my questions. It was sleek, bouncing, -i literally looked younger when i left. It was drastically different without being overtly trendy. Magnificent.

Posted on 11/21/2017 by Will H.
5.0 Stars
I just followed my colorist, Marshall Violante, from his previous salon and couldn't be happier. Marshall is a color God - his judgement and technique are impeccable. Always natural looking and my hair is always healthy and in great shape. He's also super pleasant and very professional. Color work is time consuming so if you have to sit in a chair that long to look great, Marshall is the person you want to chat with. His recommendations on everything current are always spot on. Also the new salon is amazing. Lively and fun and very stylish.

Posted on 03/19/2017 by Grace K.
---