Shoot Clique, Summer 2012
Amy Abramite, the very talented Creative Director at Maxine Salon in Chicago, was invited to work backstage for some of the top designer's 2012 Fall collections shown at New York Fashion Week. It's no surprise as Amy has been featured in W, Glamour, O and Marie Claire Magazines, to name a few.
Amy says the pony tail will be getting major play this Fall. Her favorite was the high ponytail she styled for designer Jason Wu's collection, as shown above.
Another popular style we can look forward to seeing is very similar to that of Kate Middleton. A very wearable, low maintenance cut that is long enough to put up when necessary and easy enough to blow out and wear down.
Looking forward to wearing both of these favorite styles all too soon!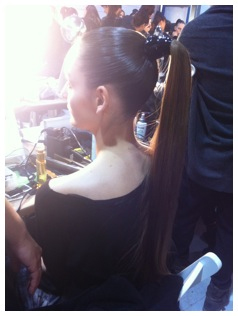 ---