Cheryl Flagg, Stylist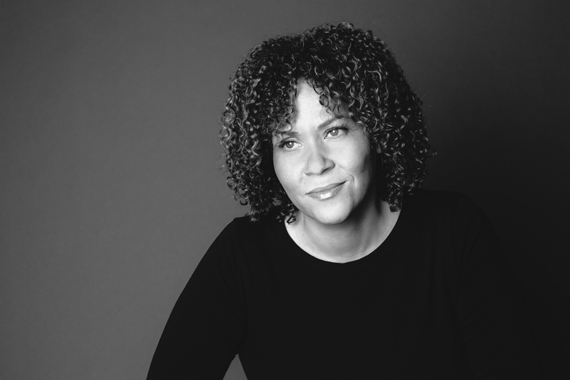 A relative newcomer to the close-knit Maxine family, this long-time stylist started at the salon in 2013. On one hand, Cheryl is a curly hair specialist, working with all types of curls in their natural state; on the other, she's a Keratin specialist, beautifully transforming frizzy and curly hair into hair that is straighter and shinier. Cheryl is also skilled at relaxing ethnic hair. From a styling standpoint, Cheryl rocks out amazing blowdrys, braids and updos.
Where did you start you career? Vidal Sassoon
What is the best thing about working at Maxine? My co-workers. Maxine is a very warm environment—even the clients think so. I always joke that being at Maxine is like being at Disney World.
What is one special thing that everyone should know about Maxine? It's fun. Even though everyone is professional and talented, everyone has a good time with their clients. When you walk through the salon, you hear laughter.
Do you have a dream client? Ellen DeGeneres. It would be a fun haircut and I'm sure we'd laugh the whole time.
What is your hair specialty? Texture! I love working with curls.
Who is your style icon? Tracee Ellis Ross. I love her! Her style is awesome and she wears so many different looks, from urban street to red carpet.
What movie character is most like you? No one. They just wish they could make up a character as fly as me.
What is your daily hair routine? Rinse, condition and apply curl styling product while in the shower. Then scrunch the water out with a t-shirt.
Cheryl's haircuts are $100.00
5.0 Stars
Patient,perfecting, and professional. Marshal(colorist) & Cheryl(stylist) collaborated with me on what woukd be best for my African American, long hair. My hair was 7"of natural hair, 6" of perm- which was transitioning out of braids and in need of grey coverage. All i can say is transformative. I have never been this emotional in a good way about my hair. Marshal mixed the magic and taught at the same time. The color looked so good i forgot that i needed to be styled. But then Cheryl took it to the next level and chose all the right product, tools and cut. The cut was so good i didn't need it curled,and the lenght was still there. She briefed me on care and answered my questions. It was sleek, bouncing, -i literally looked younger when i left. It was drastically different without being overtly trendy. Magnificent.

Posted on 11/21/2017 by Will H.
5.0 Stars
I just had my hair cut, and to be honest totally repaired, by Cheryl. She was a really good listener, had a good recommendation and I love my cut. I have curly hair which is hard to cut and have been suffering from some bad styles recently. I'll be going back to Cheryl for sure. The staff was super friendly too.

Posted on 11/10/2017 by Kristie Z.
5.0 Stars
I should have done this earlier. Love Robert for color and Cheryl for cuts and Keratin. Both are experts in their specialities. On the reviews that complain about the prices of the services at this salon... everything in that part of the city is expensive. If the neighborhood is taken into account the prices are not shocking. Keratin pricing is only a little more than what I paid when I lived in a significantly less expensive part of the country. I actually think the keratin pricing is about the norm at a standard Chicago salon.

Posted on 03/11/2017 by Necia W.
5.0 Stars
I came to Maxine with a pretty bad haircut that I let grow out. I was referred to Cheryl by the concierge at the Peninsula Hotel. Cheryl gave me an excellent haircut; just the style I wanted, making it easy to blowdry while keeping the length pretty close to where I ultimately want to be. I love the placement of the layers, something not easily achieved by many hairdressers. I also got my hair colored by Diana and am extremely pleased with my highlights. I'll be back for sure! Thank you!

Posted on 06/30/2015 by Jennifer M.
4.0 Stars
I recently relocated to Chicago and needed to find a new salon. I found it a challenge being African American finding a salon that does ethnic hair in my neighborhood. I had several bad experiences at other salons (that shall remain nameless) that touted online that they do all types of hair and provide relaxers as a service but all the stylist did a very mediocre job and it was a total waste of money. A few months ago I found Maxine salon and figured I'd try it. I've been going to Cheryl ever since. She does a good job of explaining what she is doing and giving tips on what products to buy and techniques to use in between appointments. When I arrive for my appointments I never wait and I am always in and out. The only reason I didn't give 5 stars is because the salon charges the same amount for a trim as they do for a haircut which was not my experience at other upscale salons.

Posted on 03/25/2014 by Ciji W.
---