Raven Hurtado, Stylist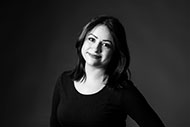 Stylist Raven Hurtado began her career at Maxine Salon in 2009. After working as an Assistant for three years, Raven was inspired by the talent and passion of the stylists and colorists and enrolled in cosmetology school. Now celebrating ten years as part of the Maxine team, Raven pulls creative inspiration from magazines and social media. She specializes in working with her clients to create a long-term plan for achieving healthy hair. A devotee of a good pixie cut, Raven also enjoys working with long hair to create tousled, beachy styles.
Haircare product you can't live without? Kérastase Elixir Ultime
Who is your dream client? Why? I would love to work with J Lo! Not only is she talented, but she's beautiful and stylish.
What do you never leave home without? Lipstick and mascara.
Best decade for hair, and why? I love the beachy waves of the 1970's. The styles then were so effortless.
And the worst? The 1980's. Too much frizz!
Favorite thing to do on a free Sunday? On Sundays you can find me spending time with my kids, going to the park, having a movie night and of course, shopping!
If there was a movie made about your life, what would it be called? Working Mama
The best thing about working at Maxine? The people I work with and the clients that sit in my chair are what make Maxine Salon like a second home to me.
Raven's haircuts start at $80.00
03/17/2019|WOW!!! I mean...wow|Karissa B.|WOW!!! I mean...wow. Lauren and Raven made my hair look the best it's ever looked. My mom and I were in for the weekend out of town and decided to get our hair done. I knew I wanted to try something new with my hair, and both of the stylists were so accommodating and a joy to be around. Everyone at the salon is lovely and they made me feel so pampered and beautiful. If you ever need a blowout or a cut and color while your in the city, CHECK THIS PLACE OUT! IT'S WORTH IT!|Yelp|https://www.yelp.com/biz/maxine-chicago?hrid=7IoZV-P6XBOAbyHAEMVJnQ&utm_campaign=www_review_share_popup&utm_medium=copy_link&utm_source=(direct)|5.0|
---