Jenna Spino, Stylist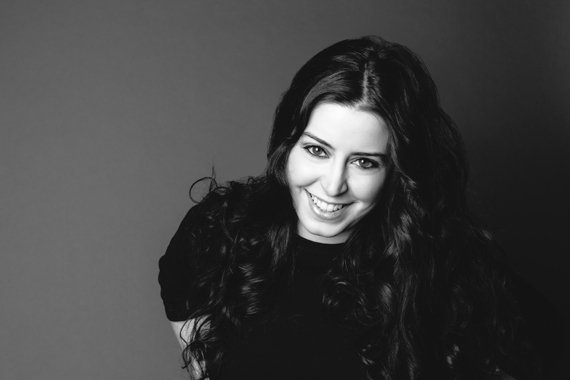 After completing Maxine's esteemed cutting program, Jenna has continued to grow and learn in her career as a stylist. Jenna attends classes outside the salon to expand her repertoire and skills to bring back to her clients. From bobs to blowouts, long layers to up-dos, Jenna loves all aspects of cutting and styling.
What is the best thing about working at Maxine? Maxine is a comfortable environment with great energy. The staff is multi-talented and the clients are fabulous.
What is your hair specialty? Long layers and soft curls. But I do enjoy doing short, chic cuts as well.
What is your favorite cut, style and/or color to do? I like to make hair healthy and soft.
What is your favorite thing to do on a free Sunday? Explore neighborhood restaurants and bars. Go for a walk.
What movie character is most like you? People always say Marisa Tomei's character in "My Cousin Vinny".
What was the best decade for hair and why? The 70's long organic hair.
What is the hair care product you cannot live without? Elixir Ultime.
Jenna's haircuts are $100.00
4.0 Stars
Expensive? Sure. But everything in this neighborhood is. But I don't mind paying a little more for the service and quality experience I get at Maxine. I work in the neighborhood and needed a quick blow dry for a presentation I was giving later that day. There are plenty of blow dry salons in the area that can do a perfunctory job but I wanted to KNOW it would be perfect. I called and was lucky enough to get an appointment with Jenna. She did such a nice job she is now my "go to" person when in need of some "hair help". She took the time to hear what I wanted and then quickly got me looking like a million bucks! The salon is trendy and spotless but the most important asset is the friendliness of the staff. The front desk team never fails to take my coat and properly direct me and the wait is never very long for my appointment. $55 for a blow dry? Yep. It's a little more than other places. But I'm happy to pay it as I love the results.

Posted on 10/18/2015 by Carol K.
5.0 Stars
Jenna cuts my hair and I think she does a fabulous job from the hair cut to the blow out. She also passes time with great conversation. I've never been happier with a stylist, she is the coolest chick I have ever met and I will continue to see her and have my hair styled by such a talented and personable woman!

Posted on 03/06/2014 by Gianna D.
---