Evan Roberts, Stylist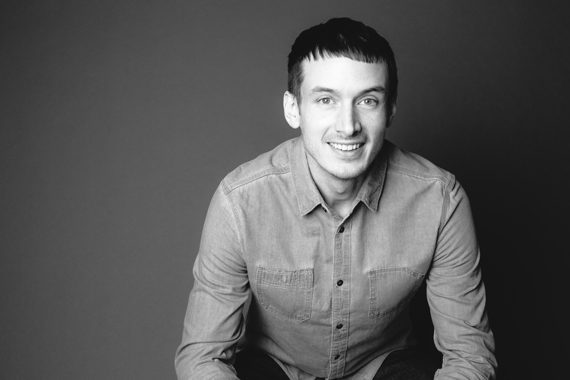 After eleven years at Maxine and fifteen years in the industry, Evan is meticulous about his cutting—perhaps because he was a sculpture major in college before switching to cosmetology school. "For women I like long layered cuts and a perfect beach wave, and for men I like tailored classic cuts with a modern twist," says Evan. Evan has spent years perfecting his skills while taking cutting classes at Sassoon with Stephen Moody, L'Oréal cutting and styling classes, Oribe styling classes with Drew Schaefering, as well as educating himself on other on-trend styling techniques.
What is your hair specialty? Low maintenance, long layered haircuts on women. For men, short classic cuts with a modern twist.
What is your favorite cut, style and/or color to do? I love giving someone a new cut or style and teaching them how to get better at doing their hair at home.
What do you do in your free time? I enjoy running, playing and recording music, and making art.
What do you never leave home without? My SwissCard! You never know when you might need tweezers, scissors or a screwdriver. Or a letter opener! Always be prepared.
Who is your style icon? Why? Patrik Ervell, he straddles the line between casual and classy, and his clothing has a very utilitarian feel which I love.
What is the hair care product you cannot live without? A good paste to keep things in check.
What is your daily hair routine? Shampoo, blowdry, add a little paste, and dry texture spray.
Evan's haircuts are $100.00
Follow Evan on

5.0 Stars
First time today at Maxine Salon - recommended by my cousin. LOVE this salon - Lauren and Evan are incredible! Lauren nailed my color and Evan gave me terrific cut and blow dry. I am new to Chicago so relying on recommendations from others and I could not be happier with Maxine Salon! Highly recommend and looking forward to my next visit, which I already booked! Thank you Lauren and Evan - see you in 6 weeks!

Posted on 08/15/2020 by Caren L.
5.0 Stars
It took me a while to find the perfect fit after moving to Chicago several years ago. I finally found my way to Maxine's and they're THE best. I go to Jasen for color. He's great. Super friendly and fun to chat with. And he has some serious talent as a colorist. There are a lot of articles about him that say he's the King of red hair. Well, that's probably true, but I have blonde/brunette balayage and he's a rock star in that department as well. For spectacular cuts, Evan can not be beat. And he's the only stylist I've ever gone to who gives me some excellent new "how-to" tip every time I see him. My partner stopped in once and couldn't get over how meticulous he was. I've never loved my hair more. These two will listen to what you want, and have superb input to go with it!! They're not inexpensive (but probably competitive for Chicago) but ABSOLUTELY worth every penny! Love it!!

Posted on 9/7/2018 by Amy W.
5.0 Stars
I have been coming here for over seven years and the the colorists and stylists are part of my "money team"! You know your coveted group of people who take care of you . Rex and Evan are my go to team! But anyone I have worked with is great. Love the front desk staff too! Now if I could only find a great facialist for my money team I'd have the holy grail.

Posted on 01/21/2015 by Mike C.
5.0 Stars
Went back to Evan at Maxine recently on a quick trip to Chicago and my experience was just as positive. He's easy-going, a good-listener in regard to what you are looking for and what problems you may be experiencing with your hair, and a skilled stylist. I'd recommend him to anyone looking for a great cut.

Posted on 02/10/2014 by Danielle P.
5.0 Stars
If you want an awesome cut, go see Evan at Maxine. What can I say, Evan is the bee's knees. I have thick hair, and when I get it cut short I always have areas that stick up all over the place. Not when Evan cut my hair. He took his time and gave me the haircut I wanted. Plus, as a bonus, Evan likes sports and music. Two things I enjoy as well and we talked about the Bears, concerts and playing in bands. Needless to say I will be going back to Evan again. Go Bears!

Posted on 7/30/2010 by Michael P.
---