Sanda Petrut, Stylist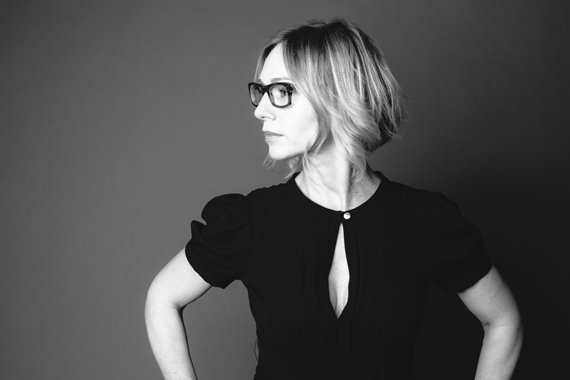 Clients love stylist Sanda's precision cutting and respect for structure; she pays great attention to shape and balance. "I like styles that have texture, move freely but keep their shape for a long time and are easy to maintain," she says. A stylist of more than 20 years, Sanda excels at Japanese thermal straightening. Sanda has studied with the Redken Academy in New York, and developed the Sliding Bangs technique for Maxine.
Where did you grow up? Romania
What is the best thing about working at Maxine? Being treated like family, receiving a great education, and knowing Max is involved in every step of developing and expanding the salon.
What is your hair specialty? Elegant, harmonious haircuts with great precision.
What do you do in your free time? I'm obsessed with tennis. I also love to cook, read and travel.
Who is your dream client? Why? One who allows me the freedom of creating the best overall look for them.
What neighborhood do you live in? Wicker Park
Who is your style icon? Why? Greta Garbo. She was a legendary actress with great beauty and style.
What is the best decade for hair and why? This one is the best. We have the freedom of incorporating a little from each decade. Hair today is natural looking and sexy.
Sanda's haircuts are $135.00
5.0 Stars
Amazing experience from start to finish, I have found my 'forever hair home'. Reservations: I was warmly greeted by a gentlemen when I called to schedule my first appointment. I explained what I was looking to have done, he NEVER rushed me and scheduled my services. It was refreshing to speak to a salon that was kind and accommodating vs pretentious and rude.

Posted on 04/07/2016 by Maria B.
I feel hot and sexy
After Sanda cuts my hair, I feel hot and sexy and I'm ready to take over the world.
Posted on 07/09/2015 by Neda Huynh
5.0 Stars
Love love love my new salon! I have gone 2 times for balayage with Rex and 1 time for cut with Sanda. Basically I have a very mild ombre with face framing for sun kissed look. I'm naturally a dirty blonde and have transitioned from getting highlights to be more low maintenance and to get that natural look while growing out (say good bye to root line :) The blonde he pulls thru my hair for the "sun kiss" is such a pure beautiful blonde (if your blonde you know what I mean) I'm impressed. And he really listens to what you want. I hate getting my haircut because I like to keep it long but my ends really needed it. I asked for her to keep it long but some how give it style and give me some side bangs. Was nervous about he bangs because I really just wanted a sweep across and not a chunk. She nailed it! a little expensive but since you actually have to go less often since they do such a nice job and you don't have to get corrections. I feel its not that bad.

Posted on 08/26/2014 by Hannah K.
5.0 Stars
Tina and Robert are the best colorists in Chicago! My hair is very fine and dries out and breaks really easily with processing and I have allergic reactions to chemicals. But between them the team has kept my hair healthy and shiny and the color and highlights natural looking! And Sanda and Becca are fabulous cutters. I can even get away with air drying my hair in the summer because the cut is so good! Maxine is friendly, fun and personal. The staff stays there for years. Always a good sign when turnover is low and people enjoy their work and environment. And you feel that quality as a customer.
Posted on 07/20/2012 by Nina G.
5.0 Stars
This is specifically for bridal/bridesmaid hair so not terribly useful, but we had such a wonderful experience here I had to rave. Sanda did my hair for my wedding and really knows her stuff. She created the most beautiful hairstyle that didn't budge all night. My hair was the only thing I was worried about all day, and the minute she finished I knew I had nothing to worry about. I got so many compliments on it all night and I'm so grateful to her for really listening to me and taking the time to make it right. Additionally, we had about 13 other chairs occupied with everyone from my 11-year-old flowergirl to my 75-year-old grandmother, and every single woman looked exceptional. My bridesmaids' updos were lovely and stayed put all night, and all the blowouts were on point. I'm so glad we went to Maxine on a friend's recommendation - if I lived in Chicago it would be my go-to salon!

Posted on 11/23/2011 by Alex A.
---